Preserve capital whilst generating an income in excess of cash
Launched at the start of September 2017, the EdenTree Responsible & Sustainable Short Dated Bond Fund has achieved a total return of 3.5% since inception – an average total return of 1.2% per annum whilst taking on minimal credit risk. The fund has achieved this through a focus on quality, with a majority allocation to single-A rated debt and above. This aids capital preservation in the face of uncertainty and volatility, whilst the average duration of the fund is between 2-3 years; meaning less sensitivity to changes in interest rates, especially compared to longer-duration funds. Finally, the fund is actively managed and not just defensively positioned; the fund manager takes advantage of spikes in credit spreads to add to quality names priced at a discount. A 5% cap on allocating to a single issuer ensures credit risk is minimised through diversification.

Actively managed to meet your income needs
For investors primarily seeking capital preservation, the current landscape in fixed income markets presents an inordinate amount of challenge and requires careful navigation. Interest rates are again plumbing new depths as a result of continued extensive monetary stimulus. For the next five years, it is likely that base rates will remain flat and achieving capital preservation through holding cash next to impossible, let alone eking out a return on it. This issue is only likely to be exacerbated by the increased tolerance that central banks now have for inflation. We believe that investors faced with this degree of uncertainty in the short to medium term are best served by an allocation to short duration fixed income instruments.
Managed in accordance with our responsible and sustainable process
We fully integrate ESG risk factors into our investment approach in order to deliver superior returns and add value for clients. This integrated approach covers four key areas; screening, engagement, governance and research. The fund also actively invests in green, social and sustainable bonds whose proceeds are deployed towards; projects with clear and verifiable positive environmental impacts (green), funding initiatives that target specific societal issues or segments of the population (social) and or sustainability-led undertakings combining both green and social elements along with other themes such as education.

Launch Date

Fund Size

IA Sector
David Katimbo-Mugwanya
CFA, Senior Fund Manager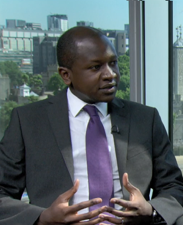 David leads on EdenTree's responsible and sustainable fixed income strategies, including the Sterling Bond Fund and the Short-Dated Bond Fund. David joined EdenTree in 2015 and possesses over a decade of investment expertise across sovereigns, corporate debt and money markets. He played a key role in the launch of EdenTree's Short-Dated Bond Fund in 2017 and has since been instrumental in its rapid AUM growth over that timeframe. Along with a BSc. Economics degree from the University of Essex, David is a CFA Charterholder and holds the IMC. His previous experience at Epworth Investment Management saw him managing fixed income portfolios for a diverse clientele via designated mandates as well as bespoke solutions.
ifa@edentreeim.com
Call 0800 011 3821
How to invest
Find out who your nearest member of the EdenTree team is and how to get in touch with them.
Contact us